Elite JV Invite
Discover How You Can Make INSANE Commissions From Promoting
QuickFire Profits 3.0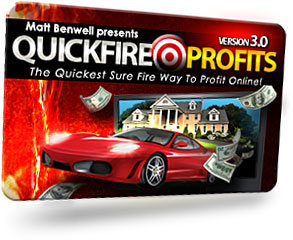 Launches: March 31st 2011 @ noon EST
Introduction
Welcome to the VIP partners page for the launch of QuickFire Profits 3.0
Matt Benwell here and I'm the creator of the Quick Fire Profits brand.
QuickFire Profits was original launched back in December 2007 & was one of the very first recurring products to be sold on Clickbank.
Ever since it's birth QuickFire Profits has sold over 25,000 memberships and has become a million dollar brand.
I expect this instalment to continue the success and assist members to gain financial freedom through the power of the World Wide Web using my quick cash systems.
Smart marketers know this and are backing this 100%!
Already HUGE marketers backing this are...
Jeff Paul, Michael Beeson, Brandon Harris, Justin Michie, Oil Tee, Chris Freville,
Rob Benwell, Cody Moya, Shawn Casey, Tom Bell, Bill McRea, Imran Sadiq, Kieran Gill, Russell Brunson, Javan Robinson, Craig Davidson, Adeel Chowdhry, Philip Mansour,
Ian Ross, Peter Lenkefi, Travis Stephenson, Kris McCarty, Michael Rasmussen, Chris Cobb, Steven Johnson, Dr Suzanne... Plus Many More...
Make sure you don't miss out and promote this sure fire profit machine!
So lets look at how you're going to make some money...

Products & Commissions
The front end product is access to the QuickFire Profits 3.0 members area which will be initially priced for a one time discounted payment of just $34.95.
After they purchase QFP 3.0 the member will be directed to 3 very special offers.
Front End = $34.95
Upsell #1 = $195 - Affiliate Coaching & Training
Upsell #2 = $37 recurring Six Figure Newsletter (or $197 Annual Subscription)
Upsell #3 = $29.95 recurring Website Management service... ongoing!
You will receive 60% commissions on all products.
So why should you promote QuickFire Profits 3.0?
4 Reasons To Promote
1 - Big Commissions
We're giving away a HUGE 60% on all sales. Plus with the recurring service we're giving the client on the final upsell your commissions are going to keep rolling in months down the line!
2 - Super Low Refund Rate
We all know that in this market refunds can be astronomical! However, as what I teach actually works... QFP 3.0 has a proven super low refund rate of just 14%!!!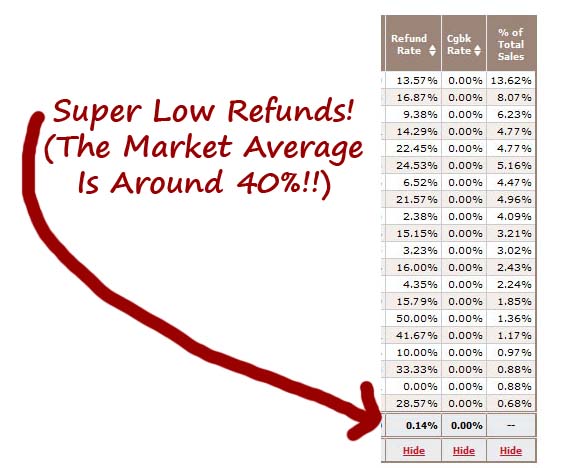 3 - The Methods Actually Work!
Well I think you can see from the stats the systems work...
PLUS 25,000 past members kind of says it all!
Now just to make things interesting we're holding a 2 week launch contest from...
31st March to 14th April 2011
Just take a look below at what you can win...
CRAZY CASH CONTEST
You can check out the prize details below...
1st - $5,000
2nd - $3,000
3rd - $2,000
4th - $1,000
5th - $750
6th - $500
7th - $400
8th - $300
9th - $200
10th - $100
**PLUS anyone that show's up and promotes will receive a reciprocal mailing. If you support me and give it your all then you can count on me to promote your product in return :)**
Sign Up Below
Join The VIP Partner List For Further Launch Updates and your promotional tools...
Thank you for your continued support